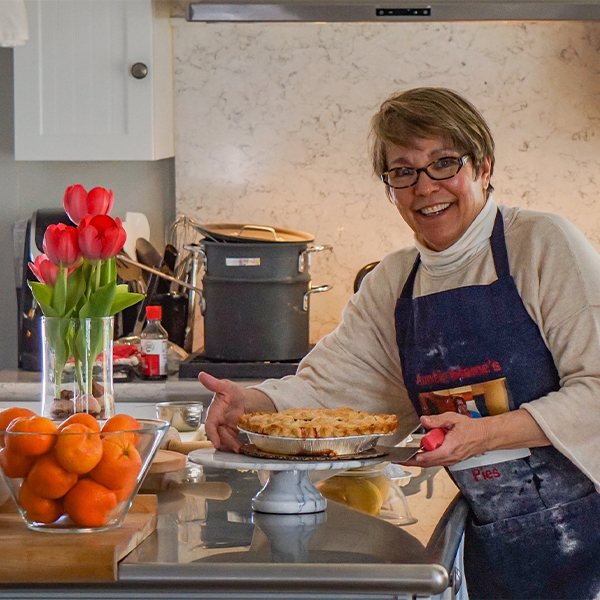 A Sweet History
Auntie Mame's Pies came to town in the summer of 2016. While new to the Glens Falls/Saratoga pie scene, Mary Ellen Collins (a.k.a. Auntie Mame) had been baking and selling her signature pies to delighted and loyal customers in the San Francisco Bay area since 2000. 
When Mary Ellen moved back to her hometown after more than forty-five years working and living on the west coast and raising her son, Tom, she decided to focus on the successful side business that she had developed over the years as a radio sales professional. 
While selling advertising for a popular radio station in the Bay Area, Mary Ellen would often thank her clients with one of her home-baked pies. One bite of her amazing pies, and her clients wanted more! They encouraged her to start her own part-time baking business. Her son, Tom, named the business with her family nickname, created her tagline, and Auntie Mame's Pies was born.  
Auntie Mame's original recipes come from her mother Nela, who passed these on to her daughter in the late 1960s. The recipes have since been revised to reflect the more contemporary tastes and health profiles popular today. The fillings have been modified using less sugar and more fruit, highlighting natural sweetness and fresh flavors.  
Local Flavor
During the summer months and harvest seasons, Auntie Mame sources fruit from local farms and farmers' markets. She spends hours and days preparing and then freezing hundreds of pounds of fresh, beautiful produce that is then baked to perfection and enjoyed at your table. 
Pie Pick-up
Auntie Mame's Pies has grown organically in the Glens Falls area by word of mouth and a loyal and expanding following from the weekly Thursday Fort Edward Farmers' Market. Check our Facebook page for updates on additional locations and special event dates.
Please be advised that all pies are picked up at a specific location in Glens Falls. No delivery or shipping at this time. Order details.